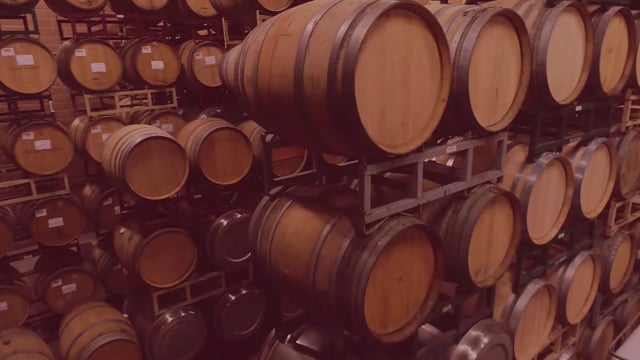 Announcing…
Ever Blooming Napa Valley!
Alpha Omicron Pi is excited to announce our new wine club, The Jacquminot Club, featuring our premium wine brand Ever Blooming Napa Valley, in partnership with Fairwinds Estate Winery. Join the Jacqueminot Club and experience the benefits and lifestyle!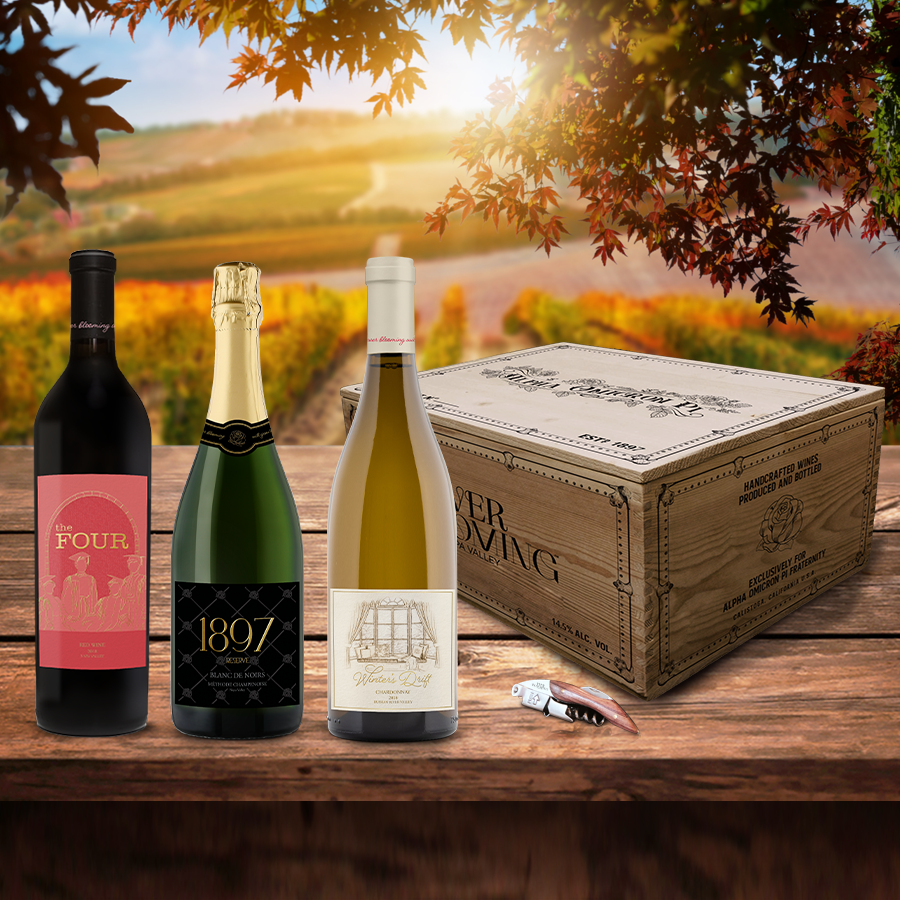 Wine Club Membership Financially Supports Alpha Omicron Pi
So many of life's moments can be celebrated with a joyful toast or reminisced over a shared meal with family and friends.  Now, AOII is giving you, our alumnae, the opportunity to do both with our newest alumnae-focused Fraternity offering, Ever Blooming Napa Valley.
Ever Blooming Napa Valley, created exclusively for Alpha Omicron Pi members by our new partners at Fairwinds Estate Winery, boasts a limited production of AOII-themed, Napa Valley wines.  Twenty-percent of the proceeds from all wine purchased will go directly towards alumnae programming, events and Fraternity services.  With subtle nods to our beloved AOII woven throughout the wine offerings, alumnae will find themselves sifting through the fondest memories brought on the famous words of A Rose Ever Blooming, "a million tomorrows will all pass away, 'er I forget the joy that is mine today."
Inaugural
Release
INTRODUCING OUR INAUGURAL FALL RELEASE VARIETALS AND LABELS!

The Four
2018 Red Wine – Napa Valley

Barnard's class of 1898 included four particularly amazing women who were destined to leave a great legacy on both their college and on a new fraternity. Stella George Stern Perry, Jessie Wallace Hughan, Helen St. Clair Mullan and Elizabeth Heywood Wyman were four firm friends determined that their friendship should last a lifetime. "The Four" is the first in the series of wine offerings that pay homage to each of our founding members and the uniquely individual impact they left on the Fraternity.

We introduce you to The Four. This proprietary red blend – from our award-winning winemaker Todd Heth – exhibits dark blackberry, bing cherry, and plum notes perfectly into layers of coffee and tobacco. The finish is dry with long-lasting berry fruit. Silky but firm tannins, this wine is enjoyable now but has the ability to age well in the cellar.
$95 / Bottle

Winter's Drift
2018 Chardonnay – Russian River Valley

AOII was founded by four courageous, ambitious women: Stella, Helen, Elizabeth and Jessie. On December 23, 1896, on a wintery afternoon, the four climbed the stairs in a small gallery of the old Columbia College Library which led to an old and seldom used room. Seated on broad window seats and with sunlight streaming gently through the windows, and snow lightly drifting outside, the four pledged each other. Just a few days later on January 2, 1897, Alpha Omicron Pi was officially organized.

We introduce you to Winter's Drift. Hailing from the cool and foggy climate for the Russian River Valley in Sonoma County, this beautiful medium-bodied wine was grown slowly to build intense flavors over time. This wine was aged in French oak and displays a beautiful balance of fruit, oak and liveliness on the palate and exhibits lush mango and toasted almond. Balanced fruit with tarte acidity makes this wine a classic example of Premium Russian River Chardonnay.
$56 / Bottle

1897 Reserve
Sparkling Blanc De Noirs – Méthode Champenoise – Napa Valley

Stella George Stern Perry, Jessie Wallace Hughan, Helen St. Clair Mullan and Elizabeth Heywood Wyman were four friends determined that their friendship should last a lifetime. On January 2, 1897, those four women founded Alpha Omicron Pi, having no idea the lasting impact this organization would have for years to come. After 125 years, AOII members celebrate our Founders for their vision, continue to forge lifelong friendships, and Inspire Ambition in all that they do!

We introduce you to 1897 Reserve. This premium sparkling wine – meticulously and artfully made in the traditional champagne method – rivals anything found from the best Champagne houses in Épernay and Reims. Blended superbly from Chardonnay and Pinot Noir, this magnificent Napa Valley Brut exhibits rich fruit aromatics of strawberry and delicate white cherry that follows through to a creamy mid-palate accompanied with highlights of lime and wet minerality and a lingering vibrant finish.
$85 / Bottle
Club Format and Cost
In order to receive the twice a year shipments and be eligible to purchase additional bottles, you must be a member of the Jacqueminot Club. A $50 one-time, non-refundable deposit will be processed to secure your first shipment only. This deposit will be deducted from your first club shipment cost. Wines are released in two three-bottle or six-bottle shipments each year based on the club level you select. The cost will range based on your selections. The cost of a bottle ranges from $35 to $75 + tax & shipping.
Each club shipment for three-bottle members will arrive in a cardboard shipper that can be upgraded to a fire-branded Alpha Omicron Pi wooden crate for a discounted price of $25 ($50 Value). All club shipments for 6-bottle members will arrive in a wooden crate at no additional cost ($99 Value). Except for your one-time, non-refundable $50 deposit, your card will not be charged until the Release date. Again, the $50 deposit will be deducted from your first shipment cost.
Each club shipment can also include a special welcome package and gift at no additional cost ($30 Value). Depending on the club level you choose, you can customize your wine selections! New, library and special edition wines will be offered for your selection. There is no long-term commitment, and you may cancel at any time.
Please review the Jacqueminot Club member levels and benefits on the comparison matrix presented on the Club page. Enjoy your wine, and remember, when you share a glass, gift a bottle or visit the Fairwinds tasting room in Napa Valley together, you are supporting Alpha Omicron Pi!
Alumnae of Alpha Omicron Pi have the unique opportunity to continue the Fraternity's mission to Inspire Ambition by becoming a member of the Jacqueminot Club. These funds will directly benefit AOII's alumnae engagement initiatives and events, as well as enhance Fraternity services. 
Alumnae who join the Jacqueminot Club will receive two shipments annually (three bottles or six bottles each) of wines made exclusively for the sisterhood of Alpha Omicron Pi handcrafted Napa Valley.
Hear About
Ever Blooming
Membership in the Jacqueminot Club allows our sisters the opportunity to raise a glass in support of our Fraternity. I hope you will join me in a toast to friendship, to sisterhood, and to inspiring ambition now and in the future!
Crystal Grafton Combs
International President
Joining our Jacqueminot Club and enjoying our Ever Blooming wines with sisters – whether near or far, or in person or virtually – is a way to stay connected with our treasured friends and to support our beloved Fraternity that brought us together. Cheers to each of you, and to our Fraternity- to reminiscing over happy memories and looking forward to our inspiring future!
Kaya Miller
Executive Director
Nothing brings people together better than wine and I am honored to make these wines for Alpha Omicron Pi and cannot wait to share them with you.
Brandon R. Chaney
Proprietor & CEO, Fairwinds Estate Winery and Ever Blooming Napa Valley
Experience the Benefits and Lifestyle!
Membership financially supports Alpha Omicron Pi
Club membership options to best fit your budget and lifestyle
Two shipments of three or six bottles per year (minimum to retain Jacqueminot Club seniority)
Wine received in a handmade vintage Alpha Omicron Pi fire-branded wooden crate
Exclusive access to limited releases and library wines
Exclusive access to the gift website to gift wines and merchandise to friends and family
Free wine tasting experiences at Fairwinds in Napa Valley
Special access to Alpha Omicron Pi only events and experiences
Your name honored on the Alpha Omicron Pi – Jacqueminot Club Member Plaque at the winery
Fairwinds Estate wines are offered at 10% off